Get a website
Designed for your goals.
Designed for your budget.
Designed with our passion.
Passionate business Owner?
​
​
We want to build you a website you'll LOVE having and updating by yourself with our support!
​
As a small business, we know there are 3 things you want the most for your website:
An expert that cares and understands your business and your goals

A professionally designed functional website

Someone to guide you, take you by the hand and teach you to update your content, with no need to code or guess or pay extra

Okay, there might be a 4th thing - affordable pricing...
That's what we do!
Our mission is to help you to communicate better to their customers and achieve their goals and teach you to DIY.
​
Let's work together to let your Chooka* shine!
We'd love to get to know you better so your website can represent your passion and work for you!
​
Your company's website is the GATEWAY for customers to see what your company or organization is all about, the services that you provide, and ways to connect or engage with you - to take action.
We take the time and interest in your business features and goals so we ensure that your NEW website has everything you need -
Has one or more clear objectives

Includes call-to-actions

Is easy to navigate

Is consistent with your branding

Communicates a clear message

Is mobile-friendly

Has good SEO settings

Is easy to keep up-to-date (you have full access, support and training)
Here's why you'll love us
We understand you, design for you, and teach you to run with it!
Join the clients that LOVE working with us.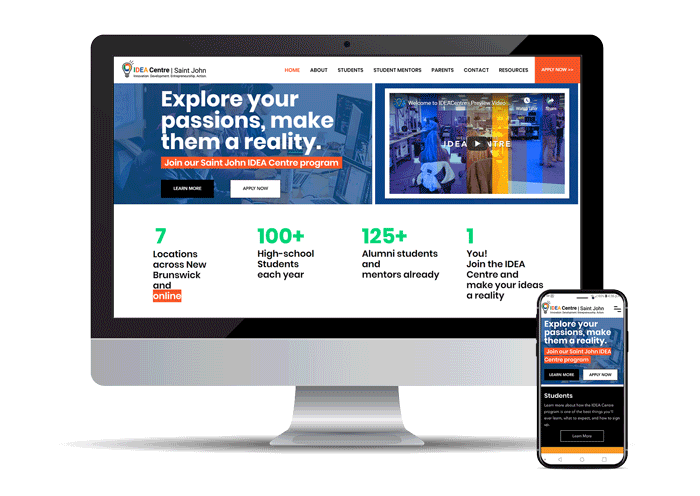 "Our program needed a new website built from scratch (www.ideacentresj.ca).
The needs of this platform are multi-faceted and Chooka was able to build a site that meets our needs perfectly. The process has been a wonderful success and I would highly recommend Tal and Chooka to anyone!"
​
- Ries Van Been, Director
"Our e-commerce website (www.kaimadesigns.com) needed a facelift and we reached out to Chooka where Tal put her creative skills to work.
The result was astonishing. Tal is a very creative and talented professional who takes pride in delivering great customer service. I strongly recommend Chooka."
​
- Christine
"This has been an EXCELLENT experience! Tal (Chooka) was patient with me and my lack of website design experience. She took my strategy and turned it into a first-class website. She is a 'fountain of capability' and produced exactly what I wanted ... and more! ... I highly recommend Chooka and Tal."
​
- John Buchanan, President
We're setting you up for success
with so much more than just a design
What you get with your website
Design & Build
+Technical love
​
We build your website using the user-friendly Wix platform:
​
Up to 10 pages

Mobile compatibility

Connecting to a domain

Website dashboard settings

SEO settings (to be found on Search Engines)

Adding site to Google Search Console & Google Analytics

Connecting integrations such as Mailchimp subscriber list

Client access to editing all content
​
​
For eCommerce -
eCommerce set up

Connecting to a Credit Card payment provider in Canada (Square - also POS / Stripe / Braintree - all have the same fees). Can also connect for offline payment.
​
Hosting & maintenance
​
Includes:
Hosting plan + Domain

QA maintenance - confirming that everything functions properly in desktop and mobile versions

Reviewing and adjusting SEO settings as needed

Sending a monthly analytics report of how users interact with the website
​
Attention & Support
​
We want to nurture your success with:
We want to understand your business or organization and your goals - we will map out your content and make recommendations

We will teach you to update content and products with confidence

Email support within 24 hrs
​
Which package fits your goals?
I want to showcase my business & services, my content, and have clients reach out to me.
​
Examples:
Showcase the services I provide

A blog to share content with my followers

Booking free appointments, meetings or classes

Booking speaking engagements

A portfolio or artworks

Events that require registration (even free)

And more
Standard Website:
$188 monthly, for 24 months
​
Includes Design, Build, Maintenace, Hosting, Training and Support - see details above
*We reserve the right to change pricing according to your specific needs.
*Price doesn't include 15% tax
I want to sell my products or services online.
​
Examples:
Booking paid appointments, meetings or classes

Membership plans (enables exclusive access to hidden pages, exclusive community, etc.)

Selling event tickets

Online Store

Restaurant orders and reservations​

And more
​
eCommerce Website:
$296 monthly, for 24 months
​
Includes Design, Build, Maintenace, Hosting, Training and Support - see details above
​
*We reserve the right to change pricing according to your specific needs.
*Price doesn't include 15% tax
Select a package that fits
The first step for us is to get to know you and your business and see what we can do for you.
Please schedule a Zoom session here: